Matt Eberflus's defensive coordinator left the team under what can, at best, be considered troubling circumstances. His starting quarterback, earlier in the week, casually placed his offensive coaches under the tank treads before walking back his comments. Then, the team got absolutely pummeled by the Kansas City Chiefs, 41–10, in what ended up being, quite mercifully, the second-biggest blowout of the weekend.
While the Bears are not the worst 0–3 team in the NFL, they are the closest to what we might consider a team in crisis; a team that will have to make a major decision so as to avoid taking on water. Just from a sheer workload perspective, losing a coordinator in the middle of the season is disastrous. A head coach's time is already divided into toddler birthday pizza-sized pieces without the stressors of a full-time play calling role and a deeper responsibility with the creation of a game plan. This coming week, the Bears take on a winless Broncos team that just surrendered 70 points. The optics of losing that game following this loss will plunge the Bears' organization from disappointment into something of a glass house on fire (note to self: google if you can melt a glass house).
Chicago is not the kind of place that would make a coaching change in season, and so Eberflus needs to realize what so few coaches do: that if he doesn't do something now, he's simply making the inevitable less palatable. I've spoken to coaches who can pinpoint the moment that their head coaching tenure has gone impossibly awry, and I'm always amazed at how many of them simply accept the impending firing squad instead of trying to reverse their circumstances.
What is the answer? Bench Justin Fields? Hire a badass, out-of-work defensive coordinator? Shake up his offensive coaching staff? Go full Bill Belichick circa 2022 and call plays on both sides of the ball?
To me, the movement doesn't matter as much as the action. The one thing the Bears cannot afford to do is nothing.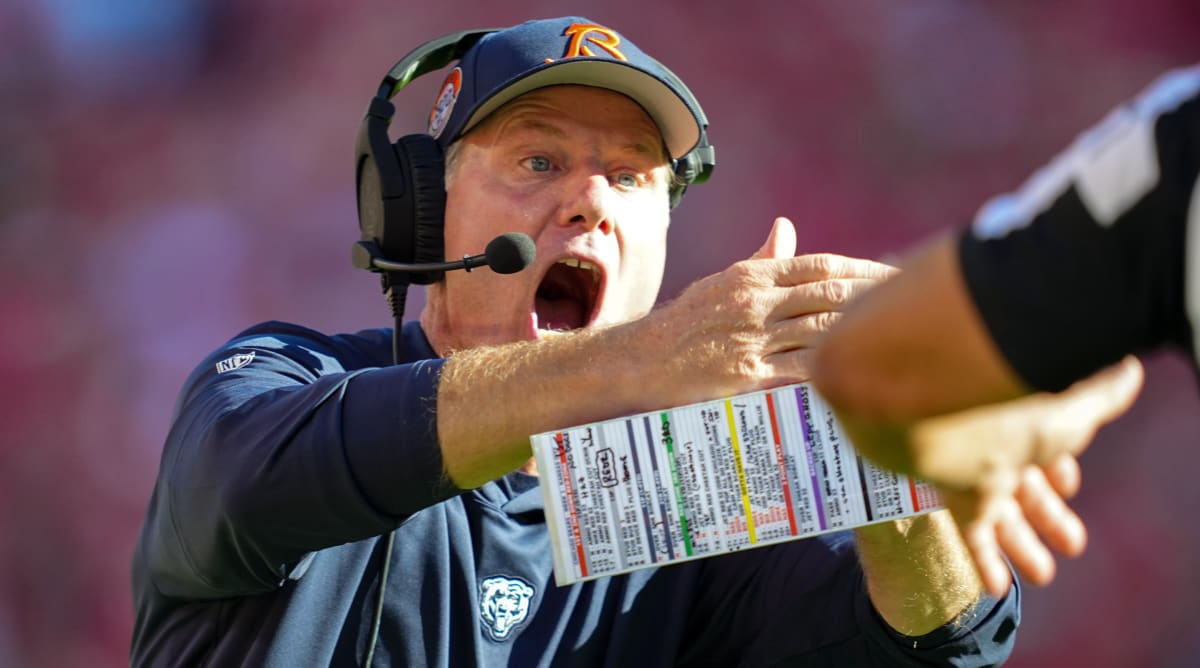 Of course the Bears will try. I'm not imagining that an entire facility will bury itself under a weighted blanket. They will make a game plan and they will, like any other team, take in the information they've received from the first three weeks of the season and try to make a determination as to how to best beat the Broncos (a pro tip: running the ball seems to work). But without the overarching recognition that something major needs to change, everyone else will accept that this pre-crisis level of operation is somehow O.K.
Regardless of whether or not you side with Fields, his comments upset the very hierarchy and organizational social order that a coach tries to put in place. Regardless of whether you think Eberflus is a brilliant defensive mind, his team has consistently ranked last in most metrics one might use to tell the story of a season. Regardless of whether you think the offensive coordinator is simply hampered by the quarterback or is hampering the quarterback, the team finished 2022 dead last in passing yards and dead last in yards per attempt. This year, they are 24th in yards and 28th in yards per attempt.
One of these instances merits a table-pounding, paper-rustling, door-kicking moment from a head coach.
I have the utmost sympathy for Eberflus and I know how tightly bound he is to his own unfortunate circumstances right now. If the problem really does rest with the offensive coordinator, as Fields somewhat suggested, he cannot simply replace a second coordinator in three weeks. If the problem is Fields, the gravity of benching a player that the team chose over Bryce Young, Anthony Richardson and C.J. Stroud is a heavy one. It has to absolutely suck to have Terry Bradshaw openly speculating about your job on television.
But he has to ask himself what the alternative is. After the game during his press conference, a perfectly composed and diplomatic Eberflus talked about injuries, and how his team really hasn't had that many opportunities to play together. Indeed, lost in this week's chaos was the placing of left tackle Braxton Jones on injured reserve.
Unfortunately, there is a point where nuance is lost and the details fail to matter. There is a window of time in which radical change can be enacted, or it becomes too late. That point is now, just before the crisis becomes something too big and too explosive to manipulate altogether. It's almost there.
The choice is simple: watch it slip away, or give it a chance to live, just not in the way you might have expected.