Good morning, I'm Dan Gartland. I think it might take the creation of a four-point shot for someone to break LeBron's new record.
In today's SI:AM:
🔮 The best candidates to pass him
🏀 Why he's the greatest all-around player ever
If you're reading this on SI.com, you can sign up to get this free newsletter in your inbox each weekday at SI.com/newsletters.
A new crown for King James
With a fadeaway jumper from the free throw line last night against the Thunder, LeBron James passed Kareem Abdul-Jabbar to become the NBA's all-time leading scorer.
James finished the game with 38 points, giving him 38,390 for his career. He needed 36 to break Kareem's record, and it was clear from the start that he was going to do his best to make history last night.
"Tomorrow is not promised," James said after the game. "If I had an opportunity to do it tonight, I was gonna try to make it happen."
The scoring record is just another addition to LeBron's impressive list of accomplishments. What makes it most impressive might be that James is so much more than a pure scorer. As Chris Herring writes, he's the best all-around superstar in NBA history. He's fourth on the all-time assists leaderboard and an elite defensive player, in addition to being the league's most prolific scorer. And hasn't just scored in bunches—he's done it in a variety of different ways throughout his career. Chris Mannix wrote yesterday about how James squashed concerns about his inconsistent jump shot during his first stint in Cleveland and then added a low-post game to his repertoire in Miami. He really can do it all.
Few records in sports are truly unbreakable, but LeBron's scoring record looks like it could be. No active player under the age of 32 has scored even half as many points as James. At 28, Giannis Antetokounmpo ranks 12th among active players with 15,706 points. Abdul-Jabbar's record stood for nearly 40 years and there is no one in the league now poised to pass LeBron.
Rohan Nadkarni did a little math to estimate how many points LeBron will end up with and who might possibly be able to pass him. His conclusion? It'll be next to impossible for anyone in the league currently to break the record. According to Rohan's math, Stephen Curry would need to play until he's 47. Kevin Durant—even if he played 82 games a year going forward, which seems far-fetched—would have to play until he's 42. Even Luka Dončić, who averages more points per game than any active player, would have to play until he's 42. The most interesting option on the list isn't even in the NBA yet: Victor Wembanyama.
What makes the record next to unbreakable is the fact that LeBron isn't done adding to it. He said last week that he intends to play "at least a few more years" in the NBA. And why shouldn't he? At 38, he's playing as well as he ever has. He's averaging 30.2 points per game after averaging 30.3 last season. If he's able to keep it up over the rest of the season, it'll be the first time in his career that he's averaged at least 30 points per game in back-to-back seasons. (The only other two times he averaged 30 were when he was 21 and 23.) He's already told Sports Illustrated that he plans on playing in the NBA with his son Bronny, and perhaps even 15-year-old Bryce. That would mean playing at least another three or four seasons, and he's not slowing down.
The best of Sports Illustrated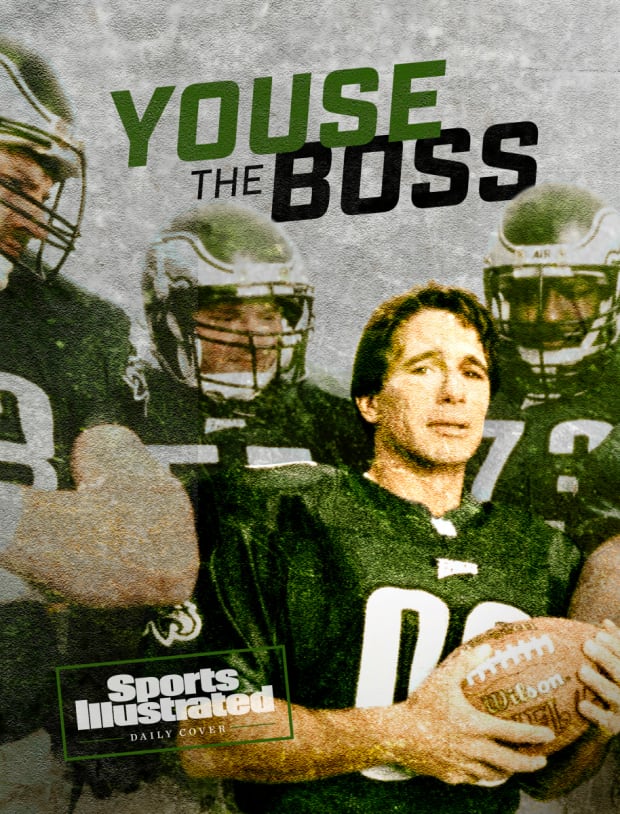 The top five...
… non-LeBron things I saw last night:
5. Shai Gilgeous-Alexander's big shoes.
4. A Bayern Munich player's unique solution for losing his voice on the field.
3. The chocolate chip cookies Donna Kelce brought to the Super Bowl for Jason and Travis.
2. The list of gifts teams gave Kareem Abdul-Jabbar during his farewell tour.
1. Cam Thomas's 43 points for the Nets. (At 21, he's the youngest player in NBA history to put up 40 in three straight games.)
SIQ
On this day in 1996, NFL owners approved the Browns' controversial move to Baltimore. But which other team announced its intention to move to Los Angeles that very same week? (This team didn't end up moving after all.)
Seahawks
49ers
Bengals
Chargers
Yesterday's SIQ: Hall of Famer Steve Nash was somehow offered only one NCAA scholarship coming out of high school in Canada. What was the only U.S. school willing to take a chance on Nash?
Santa Clara
Saint Mary's
Pepperdine
Pacific
Answer: Santa Clara. A 1995 Sports Illustrated profile of Nash by Tim Crothers describes how Nash's high school coach, Ian Hyde-Lay, failed to generate interest from more than 30 schools in the U.S., including Arizona, Duke, Indiana, Maryland, Miami, Villanova and even Pepperdine.
"When you're at Pepperdine you get 300 letters a year [from players who might
want to come to your school]," former Wave coach Tom Asbury told Crothers. "And for a white guard from Canada, you're probably not going to do a lot of follow-up."
But a part-time assistant coach at Santa Clara, Scott Gradin, had heard about Nash from a former assistant at the school and had Hyde-Lay send some film. Nash was so impressive in the low-quality videotape that Gradin burst out laughing. Once head coach Dick Davey saw Nash in person, he knew he had found a star and offered him a scholarship on the spot.
But it took much longer for the rest of the basketball world to catch on to how great Nash was. In his first three seasons, only four of the Broncos' games were televised nationally. When he was a senior, only one Santa Clara game was scheduled to be among the 400 shown to a national audience: the season opener against No. 4 UCLA in the Maui Invitational. Nash had 19 points as the Broncos beat the Bruins, 78–69.