This is an archived article and the information in the article may be outdated. Please look at the time stamp on the story to see when it was last updated.
What are the best arthritis gloves?
IN THIS ARTICLE:
According to the Centers for Disease Control, nearly 60 million adults in the United States have a form of arthritis. The most common form, osteoarthritis, is most prevalent in the hands, hips and knees.
Compression and heat-retention technology have led to the emergence of arthritis gloves to help arthritis patients with associated pain and immobility. There are many arthritis gloves available on the market. Here is what to know about them and a list of the best available.
What is arthritis?
According to the Mayo Clinic, arthritis is when there is swelling and pain associated with any joint. Different types of arthritis cause a breakdown of the joint lining or the cartilage that covers the end of bones which allows them to move together. When this cartilage breaks down, it causes the bones to rub against each other, causing pain and deformities.
It is a very common condition with nearly 25% of the adult population having some form of arthritis. The condition worsens as we get older leading to other complications such as performing daily tasks.
What kinds of arthritis affect the hands?
The hand has many joints, making it a common place for arthritis. There are three main types of arthritis affecting the hands.
Osteoarthritis is the most common type. It causes cartilage erosion usually at the base of the thumb or the middle and top joints of the fingers. Over time it can form lumps at the joint intersections of your fingers.
Rheumatoid arthritis is an autoimmune disease that causes swelling, stiffness, pain and eventually decreases in function. The immune system attacks healthy synovium, which is the joint lining. This leads to cartilage breakdown and usually affects small joints in the hands and fingers on both sides of the body.
Psoriatic arthritis causes swelling of the fingers and affects your skin. It causes morning stiffness and pain but may only impact one side of the body.
Do arthritis gloves really work?
There are no scientific studies that prove arthritis gloves are an effective therapy for arthritic pain and stiffness.
Nevertheless, there are enough anecdotal testimonies from arthritis glove users that there are dozens of brands and styles of gloves for sale online and through medical supply stores. The word-of-mouth testimonies indicate that arthritis glove users experience some level of pain reduction, increased mobility and increased confidence in performing daily tasks.
You should start with your healthcare provider since there are other therapeutic and medicinal treatments for arthritis that may be more effective.
Does copper infusion make a difference?
Some brands of arthritis gloves have been manufactured with an infusion of copper. While some marketing claims suggest an added benefit, there are no studies that prove copper-infused gloves are any more effective at arthritis relief than others.
In fact, what seems to make the biggest difference is compression material that squeezes the hand gently to help with circulation, reducing muscle swelling and removing lactic acid from muscles.
The only known benefit of the embedded copper may be a microbial impact that helps eliminate odors. Until more research is done and can prove otherwise, compression should be the main focus of any gloves you purchase.
Best arthritis gloves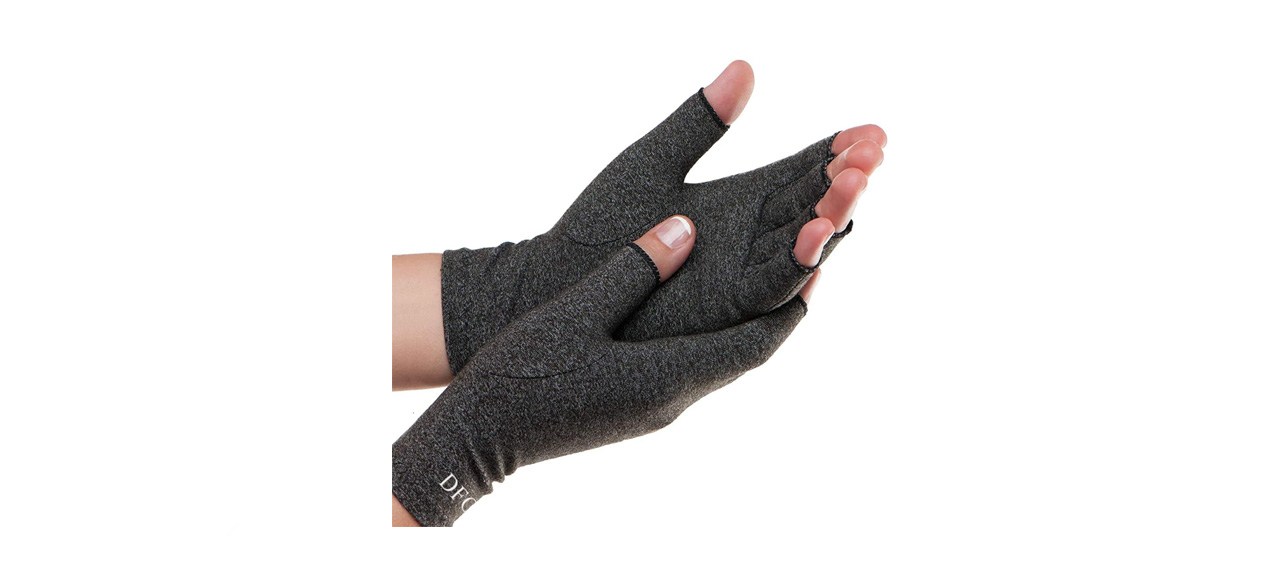 Dr. Frederick's Original Arthritis Gloves
These gloves are made from a breathable 60% cotton, 33% polyester and 7% spandex blend. They have the fingertips cut out for greater dexterity. These gloves can be worn overnight without excessive sweating.
Sold by Amazon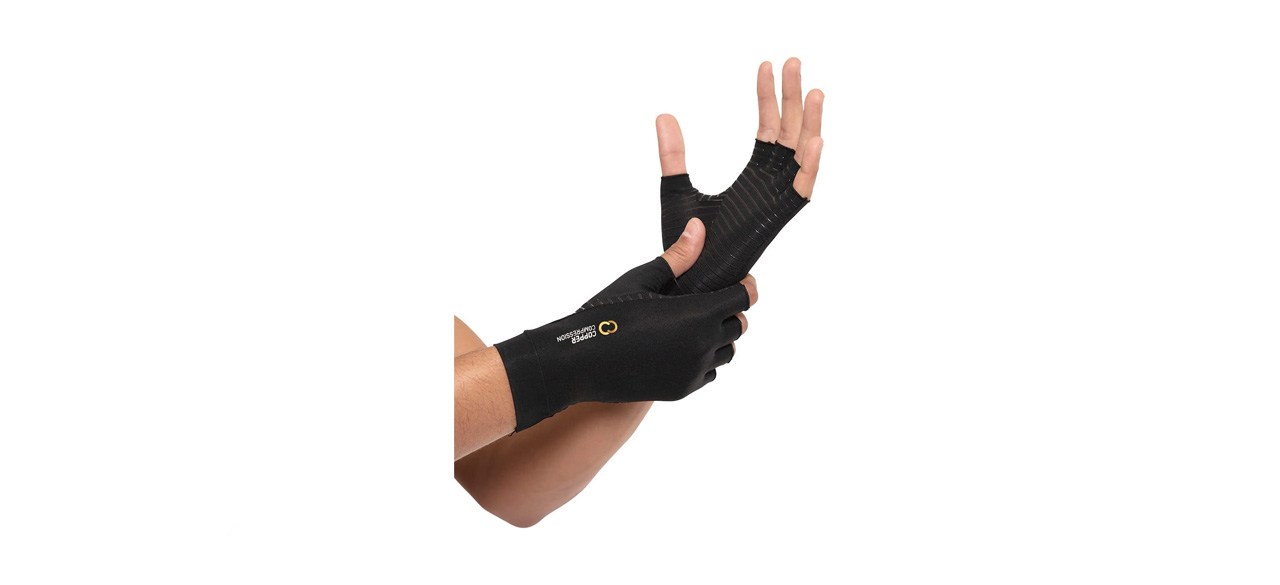 Copper Compression Arthritis Gloves
These gloves have copper infused in the material to help with pain and stiffness. They are designed without fingers and allow maximum movement which helps strengthen muscles. They have a 100% satisfaction guarantee.
Sold by Amazon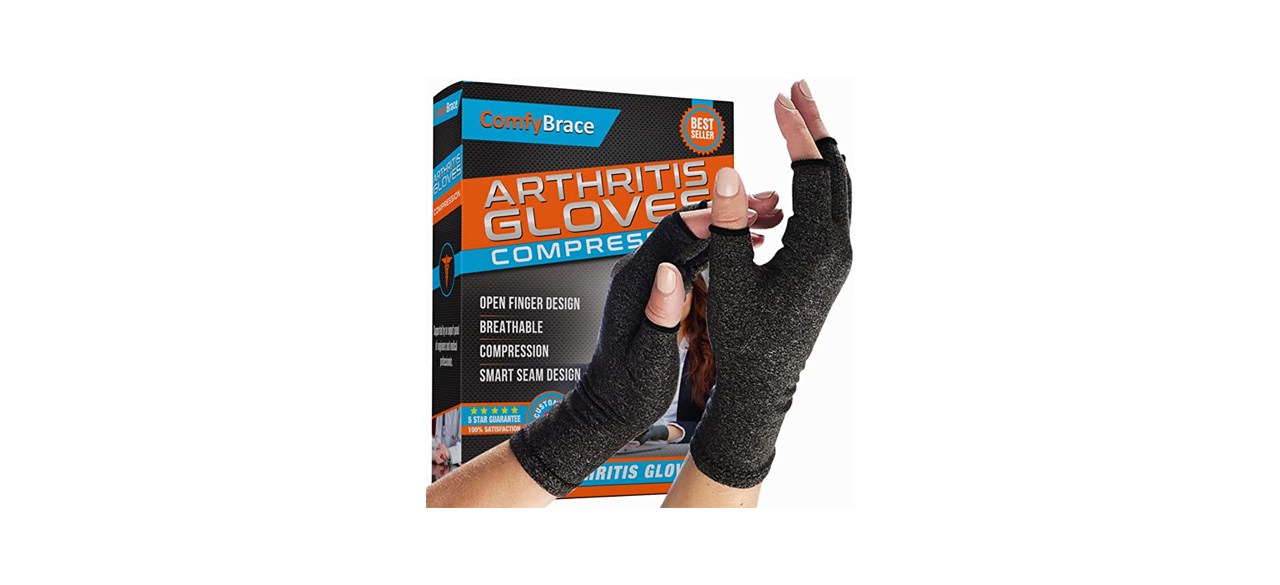 These ergonomically designed gloves have a proprietary moisture-wicking material that lets your hands breathe while giving you maximum mobility. The fingerless design allows full flexibility. They have a lifetime replacement guarantee.
Sold by Amazon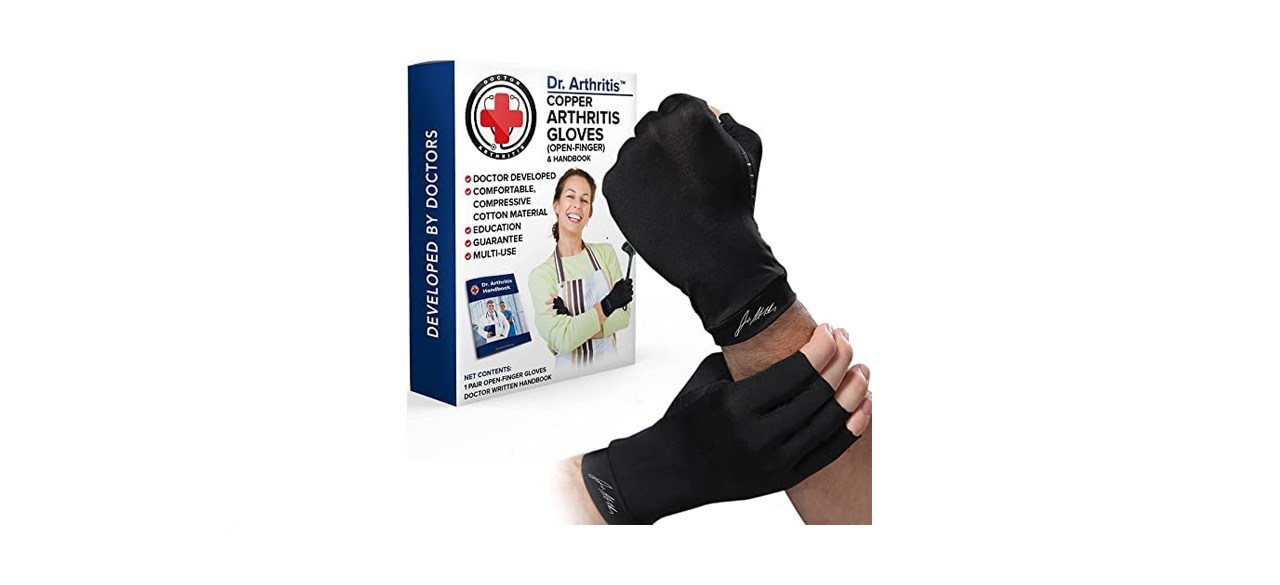 Dr. Arthritis Copper Arthritis Gloves
Developed by pain-management doctors, these gloves feature long-lasting copper nylon and spandex designed to combine comfort and relief. They come with a doctor-written handbook and customer service answered by doctors.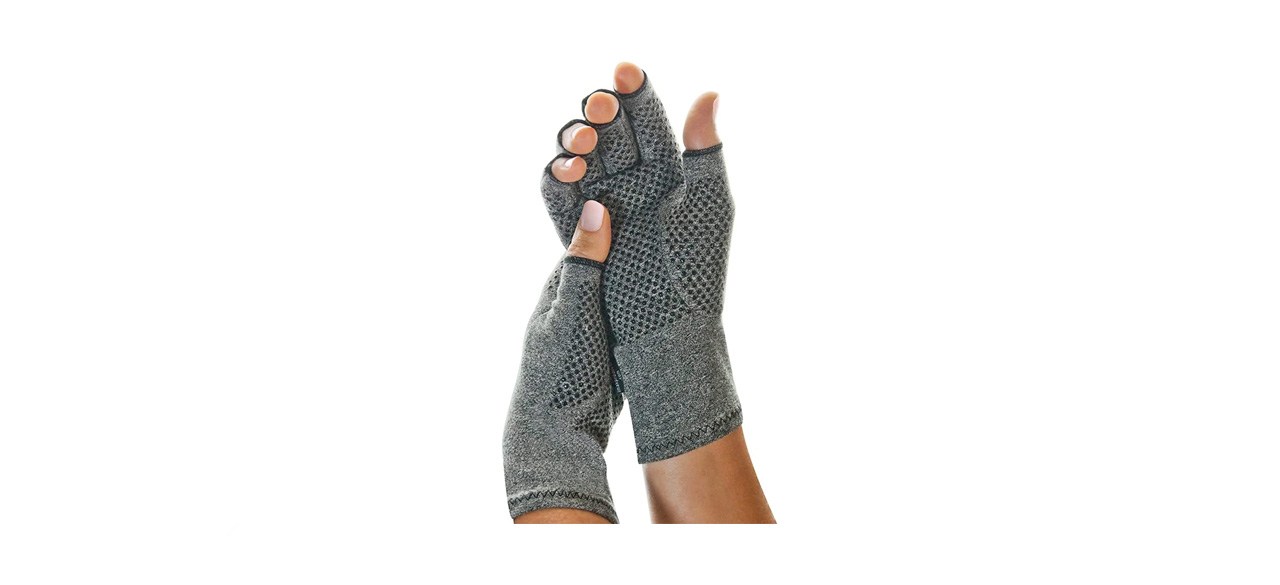 Brownmed IMAK Compression Active Gloves
These arthritis gloves are made from an innovative and comfortable 92% cotton and 8% spandex blend. They provide mild compression that improves circulation and may help neuropathy. The gloves are fingerless and fit either hand.
Sold by Amazon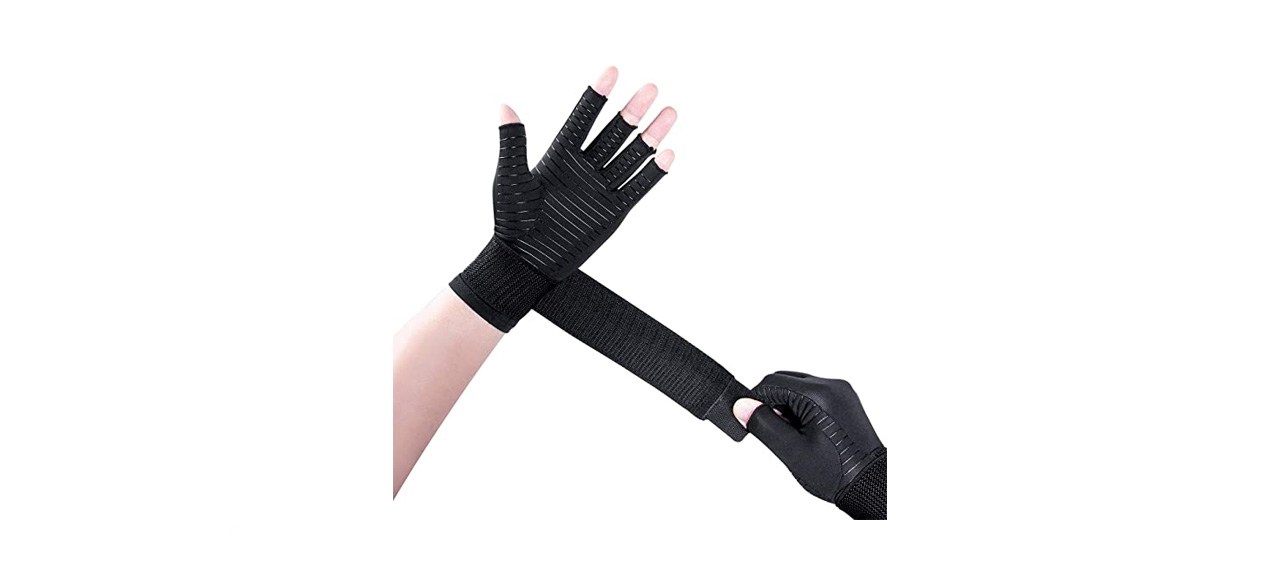 Thx4Copper Compression Arthritis Gloves with Strap
These lightweight copper-infused arthritis gloves feature a wrist strap for additional support at the tension you prefer. A fingerless design lets you perform normal daily activities. The material is non-shrinking even after many washes.
Sold by Amazon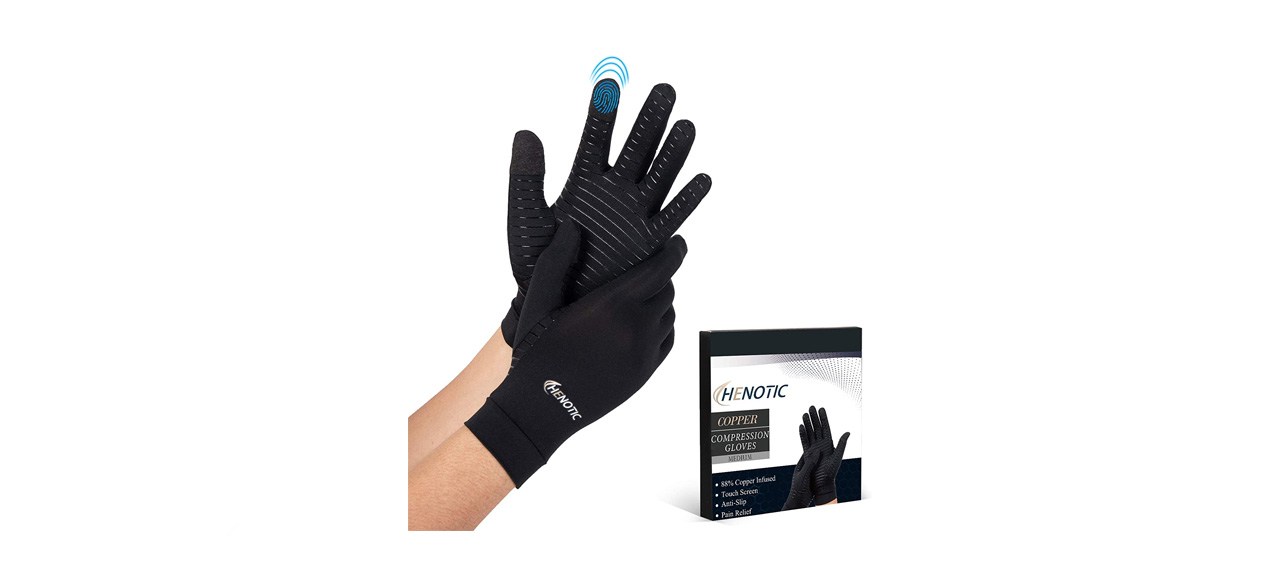 Henotic Copper Arthritis Gloves
These innovative arthritis gloves have 88% copper infusion and feature moisture-wicking spandex to keep your hands dry. They have an anti-slip silicone coating and lengthened wrist for quicker adaptability.
Sold by Amazon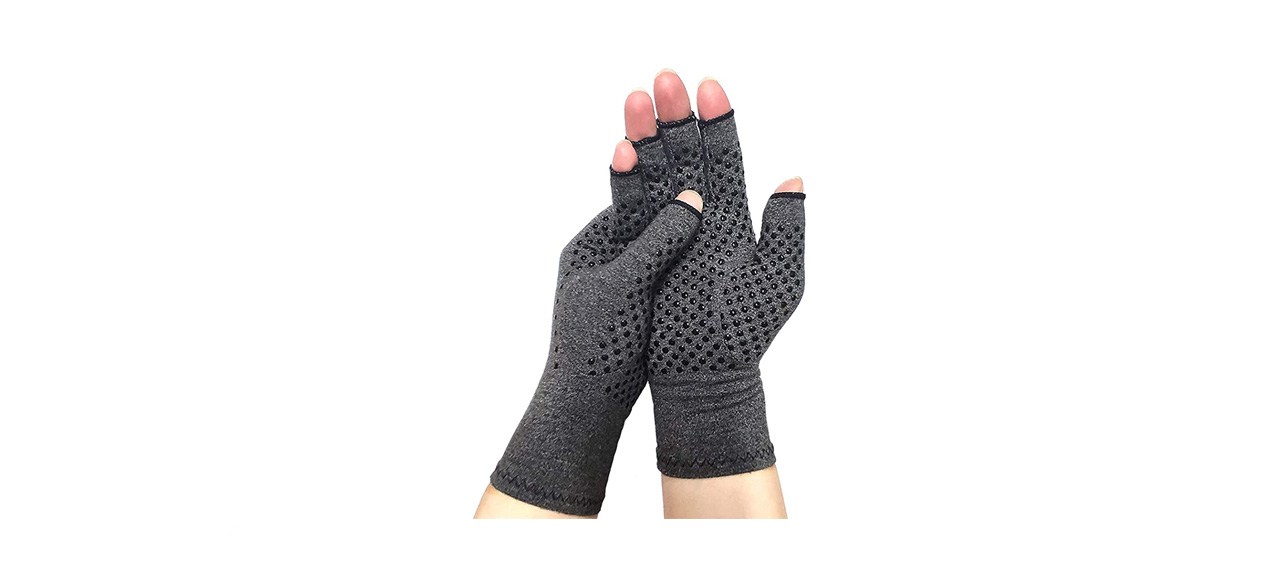 FD-Sport Compression Arthritis Gloves
These comfortable cotton arthritis gloves are breathable and feature innovative stitching technology that addresses tearing problems many other arthritis gloves encounter. They have a unisex and open-finger design.
Sold by Amazon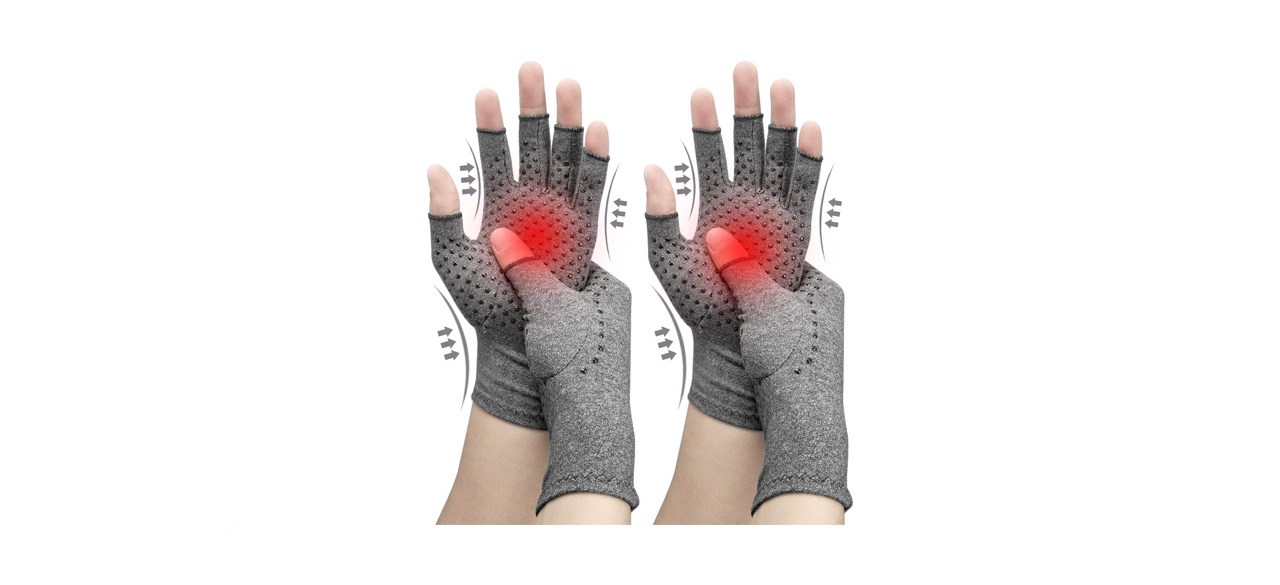 Drnaiety Arthritis Compression Gloves
These comfortable and affordable gloves have open fingers and an ergonomic design for pain relief and extra mobility. They come in a two-pack and have a 60-day warranty for any dissatisfaction.
Sold by Amazon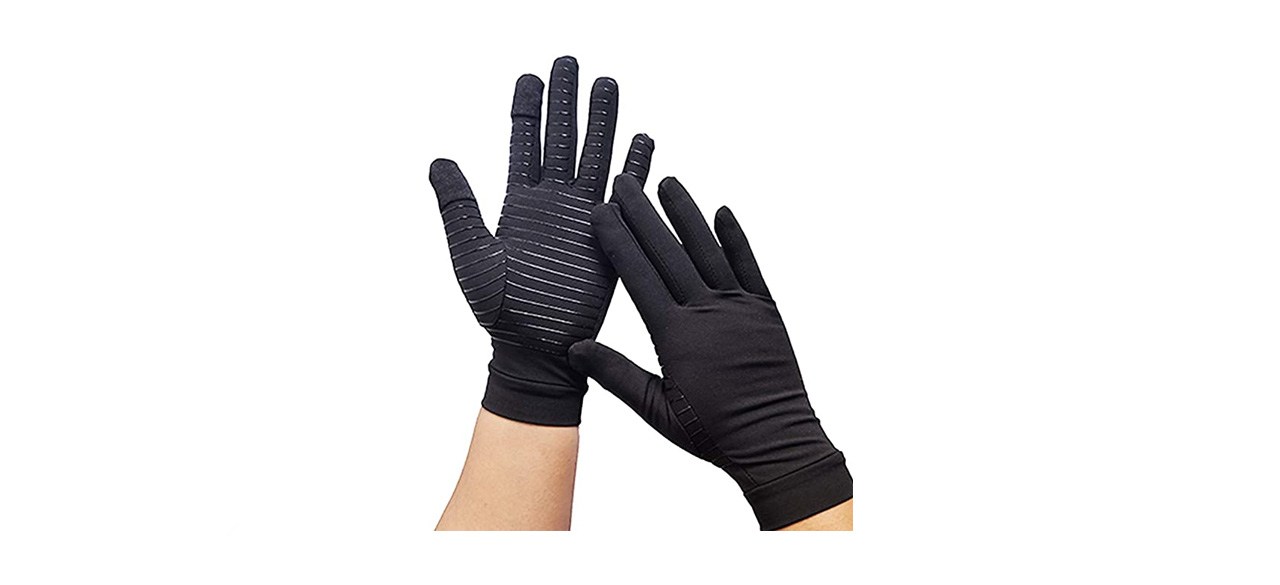 Rimonasure Full-Finger Arthritis Gloves
These full-finger gloves have flexibility and comfort. They have touch-screen material on the fingertips and thumbs for working with modern electronics. They are ideal for reducing swelling.
Sold by Amazon
WORTH CHECKING OUT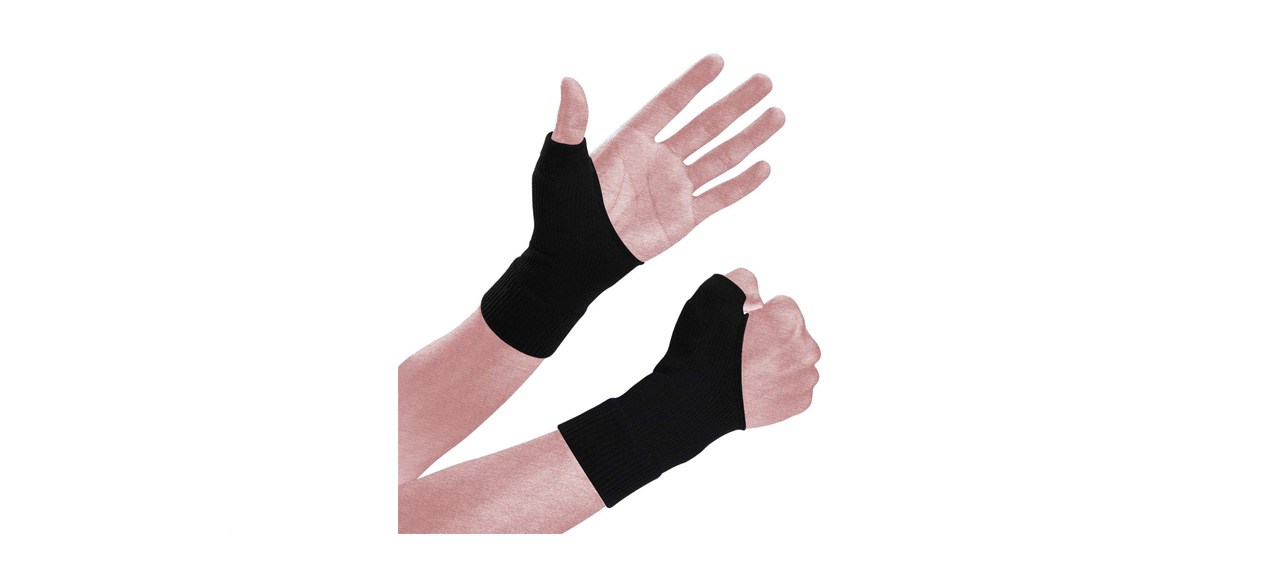 If your arthritis pain is centered on your thumb or wrist, check out the Yhoumew Thumb Arthritis Compression Glove.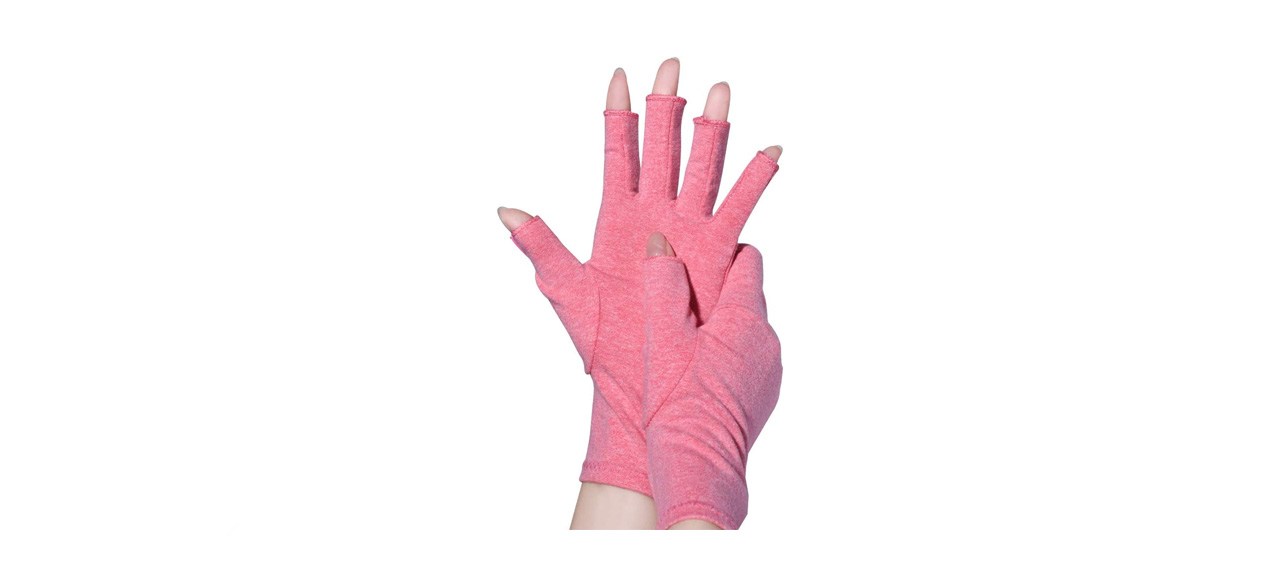 Not all arthritis gloves are black. Pnrkstr Arthritis Gloves offer stylish pink gloves with textured open fingers and combed cotton.
Want to shop the best products at the best prices? Check out Daily Deals from BestReviews.
Sign up here to receive the BestReviews weekly newsletter for useful advice on new products and noteworthy deals.
Steve Ganger writes for BestReviews. BestReviews has helped millions of consumers simplify their purchasing decisions, saving them time and money.
Copyright 2023 BestReviews, a Nexstar company. All rights reserved.