Hyundai is developing a new generation of lithium iron phosphate (LFP) batteries for affordable EVs, The Korea Herald reported this week.
The automaker is undertaking a two-year joint venture with battery makers based in its home country of South Korea that aims to see development work on LFP batteries completed in 2024, and for the batteries to be used in production EVs beginning in 2025, according to the report.
LFP batteries don't depend as much on rare materials, and they support fast charging. Cold weather and high-performance situations remain challenges, but overall affordability has made them attractive to automakers.
Hyundai currently uses LFP batteries from Chinese supplier CATL in some versions of the Kona Electric, as well as the Kia Ray EV, the report noted.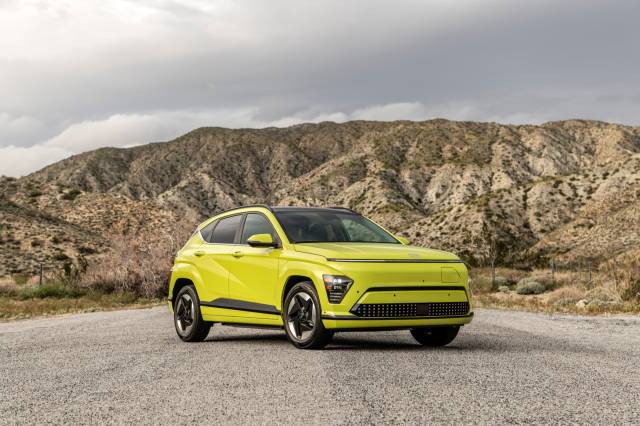 2024 Hyundai Kona Electric
Hyundai's move to develop its own LFP batteries could lessen dependence on CATL, the company that more or less controls LFP tech as it's been sold for use in the U.S. and Europe (BYD is another potential Chinese rival emphasizing the tech). But it could also serve to work around U.S. trade restrictions and help future Hyundai EVs with LFP batteries qualify for the maximum federal EV tax credit.
U.S. EV policy focusing on batteries was refined last year around seeing China as a "foreign entity of concern." Agreements made last spring make some battery materials supplied from Japan, South Korea, and the European Union tax credit eligible. That led to a flood of interest by Chinese firms seeking to build battery factories in South Korea.
2024 Hyundai Ioniq 6
Hyundai has made a U.S. joint venture with LG to make batteries for American-built EVs. The joint-venture battery plant will be located in Georgia, supplying batteries for Georgia EV production, due to commence at a $7.6 billion "Metaplant" near Savannah in 2024. Hyundai has made efforts to speed up the timeline due to changes in EV tax credit rules and other U.S. EV policy that prioritizes local assembly of vehicles and battery packs.
CATL, meanwhile, is continuing to advance its own LFP tech. The company has already teased a next-generation LFP battery that can add 250 miles in 10 minutes of charging.
Related Articles