The 2024 Chevrolet Silverado EV will achieve an EPA-estimated range of 450 miles in base work truck (WT) form, the automaker said Friday in a press release.
Chevy mentioned a 400-mile range when the Silverado EV was first shown at the 2022 CES, but "extensive development and testing unlocked the increased 450-mile range," a spokesperson from the automaker said in a statement. That figure remains an estimate for now, with full EPA testing to come closer to the truck's on-sale date.
2024 Chevrolet Silverado EV Work Truck prototype
Aimed at fleet buyers, the Silverado EV WT will be available in both 450-mile and 350-mile guises. Chevy said it's still on track to start deliveries of WT models in spring 2023, as scheduled, meaning the first deliveries should occur soon. A Silverado EV RST First Edition model aimed at retail customers will launch this fall. The Silverado EV (and its GMC Sierra EV sibling) will be built at General Motors' Orion Assembly plant, which currently builds the Chevy Bolt EV and EUV, with a full production ramp-up scheduled for 2024.
The Silverado EV features the same "structural sandwich" construction as the GMC Hummer EV, as well as a version of that truck's Watts to Freedom (WTF) mode called Wide Open Watts (WOW) enabling up to 664 hp and more than 780 lb-ft of torque from a dual-motor powertrain in some models, with 0-60 mph in 4.5 seconds. Chevy previously quoted a maximum towing capacity of 10,000 pounds, with up to 1,300 pounds of payload.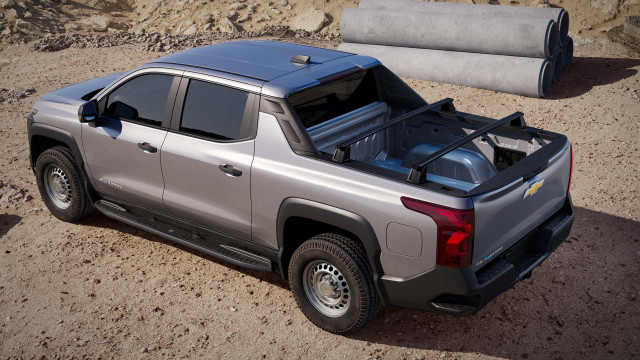 2024 Chevrolet Silverado EV
The Silverado EV also brings back the Chevy Avalanche's midgate, along with a large frunk and PowerBase system with up to 10 power outlets and output of 10.2 kw—beating the Ford F-150 Lightning's 9.6 kw. DC fast charging at 350 kw beats the Ford as well, but it remains to be seen how the Chevy's cold-weather charging performance measures up.
Chevy initially said Silverado EV WT models would start at $39,900 but hasn't issued a pricing update recently. Ford has raised Lightning prices multiple times, to the point where the fleet-oriented Lightning Pro model now starts above $60,000. Strong demand for electric trucks could cause Chevy to do the same.
Related Articles